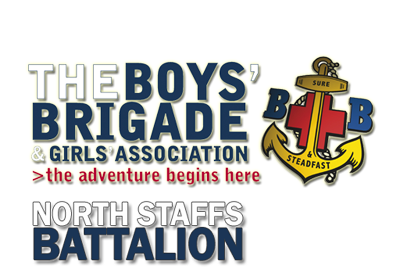 North Staffs Battalion Officials



President – Kevin Ford

Battalion Secretary Training Officer – Mike Stevenson

Vice President

- Vic Ernest
- Janet McCambridge


Treasurer – Lynne Stevenson

Hon Vice Presidents

- Bill Degg
- Harold Horton
- Alan Lockett
- Malcolm Montford
- Anthony Nicholls
- John Tildsley
- Mike Stevenson





Battalion Headquarters





The Higherland Methodist Church
Higherland
Newcastle-under-Lyme
Staffordshire
ST5 2TF
Tel 01782 711624





North Staffs (NS) Companies





2nd NS, Barlaston Methodist Church, Park Drive, Barlaston, Stone Staffs
7th NS, Bradwell Methodist Church, Bradwell Lane, Bradwell, Newcastle, Staffs
8th NS, Methodist Central Hall, The Strand, Longton, Stoke-on-Trentt
18th NS, United Reform Church, Trentham Road, Dresden, Stoke-on-Trent
19th NS, Higherland Methodist Church, Higherland, Newcastle, Staffs
20th NS, Broadway Methodist Church, Pickford Place, Meir, Stoke-on-Trent, Staffs
27th NS, Tunstall Methodist Church, Queen's Avenue, Tunstall, Stoke-on-Trent,
34th NS, Salem Methodist Church, Ford Green Road, Smallthorne, Stoke-on-Trent,
1st Bentilee NS, Maple Court Academy, Beverley Drive, Bentilee, Stoke-on-Trent
1st Burslem NS, St. Johns Community Church, Baptist Street, Burslem, Stoke-on-Trent.
1st Fegg Hayes NS, Fegg Hayes Methodist Church, Fegg Hayes Road, Fegg hayes, Stoke-on-Trent.
1st Fenton NS, Christchurch Primary School, William Street, Fenton, Stoke-on-Trent.
1st Hanley NS, All Saints Church, Leek Road, Hanley, Stoke-on-Trent.
1st Longton NS, Gladstone Primary School, Ancor Road, Longton, Stoke-on-Trent.
1st Penkhull NS, Willows Primary School, Greatbatch Avenue, Penkhull, Stoke-on-Trent.





Battalion Activities Centre





The Leslie Johnson Activities Centre
Cheadle Road
Warslow
Buxton
Debyshire
SK17 0JJ

Our Mission Statement



The Mission Statement was adopted by Brigade Council on 4th September 1999.

The Boys' Brigade & Girls' Association in North Staffordshire will care for and challenge young people for life through a programme of informal education underpinned by the Christian faith.

This will be achieved by:

Delivering Christian teaching in partnership with the church in which the company is based and encouraging the development of a personal Christian faith;
Providing opportunities for leadership, decision making and skills training;
Empowering boys and young people by involving them in decision making at all levels of the organisation and giving responsibility appropriate to their age and aptitude;
Raising awareness of boys and young people to the needs of others (especially other young people) locally, nationally and globally and encouraging them to engage in activities and projects in which they can make a difference;
Being sensitive to the needs and aspirations of boys and young people of varying backgrounds, differing abilities and stages of development and providing appropriate support, advice and guidance;
Ensuring the safety of boys and young people through the implementation of suitable procedures for the selection, training and supervision of leaders;
Equipping leaders through the provision of high quality training and resources;
Providing a network of professional staff to support voluntary leaders; and
Creating opportunities to develop partnerships with other appropriate organisations and agencies.






Our History



The Boys' Brigade movement was started in 1883 in Glasgow by William Alexander Smith. Just six years later in 1891, The Boys' Brigade had its first company in Hanley at the Presbyterian Church, later the United Reform Church in Trinity Street. In 1910, the North Staffs Battalion was formed, having reached the 8 company mark needed to form a Battalion under the Brigade's Constitution. Since these early beginnings, many changes have occurred. The Boys' Brigade incorporated the Boys' Life Brigade (or the Life Boys) in 1926, which led to the formation of 'A' companies so there was no confliction of interests.

The Boys' Brigade has celebrated reaching various centenaries in 1983 (foundation of the movement), in 1989 (The Boys' Brigade in North Staffordshire), in 1999 (100 years of camping in North Staffordshire), in 2010 (Battalion) and in 2011 (125 years of camping in the Boys' Brigade). September 2009 saw a big shake up in the Battalion's history, when it became The Boys' Brigade and Girls' Association in North Staffordshire, allowing Girls to become members of the Brigades'*.

The North Staffs Boys' Brigade and Girls' Association provides opportunities for young people to compete in competitions across a variety of sports and activities and gives leaders and young people training options for different areas of activity. It consists of companies from across North Staffordshire, including the City of Stoke-on-Trent with 10 companies and over 70 volunteer leaders providing sessions of activities and games for 150 children and young people, the Boys' Brigade & Girls' Association in North Staffordshire is continually looking to expand in size.



*Newly formed companies are BB/GA; older companies are usually BB but have links with the Girls' Brigade.