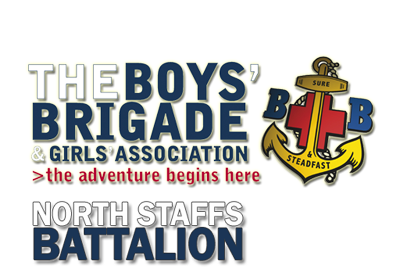 LATEST NEWS



25-08-12 The boys and girls enjoyed an excellent week at the Annual Camp held this year at the North West District Boys' Brigade Centre at Kirkham (Nr Blackpool).



03-09-12 On Monday, 3rd September, the Boys' Brigade Baton was carried through the City of Stoke on Trent



14-10-12 The Battalion, along with members of the Girls Brigade,met at the United Reform Church, Dresden, for the Annual Founder's Day Service





20-10-12 A very successful Swimming Gala was held at the Fenton Manor Baths.





09-02-2013 A good day at the Indoor Games & Potted Sports


WELCOME TO THE BB BATTALION PORTAL





The Boys' Brigade & Girls' Association in North Staffordshire will care for and challenge young people for life through a programme of informal education underpinned by the Christian faith.






OUR ADVENTURE CAMP BEGINS HERE ...






At the end of August 2011 the Boys' and Girls' Brigade held their annual Camp at the West Midlands District Camping Centre, Dyffryn Ardudwy in Wales.

This year the Boys' Brigade celebrated 125 years of camping and all those who attended the camp were presented with a commemorative badge at the end of the week. This was also the 111th year of camping within the North Staffs Battalion. .